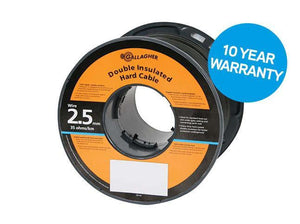 Gallagher Double Insulated Hard Fence Cable 330' 12.5 Gauge
GALLAGHER 330' LEADOUT CABLE 
Made of 12.5 gauge steel and is ideal for standard leadouts and undergate cabling. Tough polyethylene protection for abrasion resistance in the ground, ensuring long life and durability. It can also be used between ground rods in a ground system.
Resistance of 59 Ohms/mile
Diameter of 1/10"
Sold in 330' roll
Low resistance to maximize power transfer
Manufacturer's Part Number: # G627034
Suitable for under gate cabling to ensure effective power transfer between fence sections, also suitable for initial lead out lengths (Energizer to start of fence system) of less than 1/3 mile.
---
We Also Recommend
---