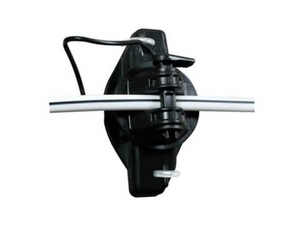 Gallagher Wood Post Wide Claw Fence Insulators 626044
Gallagher Wood Post Wide Jaw Claw Insulator 626044
Gallagher HD Wood Post Wide Jaw Pinlock Insulator is designed for Wire fences that need to be temporarily lowered for vehicle or animal access such as on laneways, beside drains or silage pits.
These insulators have two holes for nails, wood screws or staples to make a strong attachment to the post.
Made from quality plastic materials that are UV stable and designed for long life.
Equi Pinlock Wooden Post Insulator (G626044)
Features
Specifically designed for Gallagher EquiFence™ , equibraid, or rope.
For permanent power fencing.
Easily attached to wooden posts.
Extra large shield eliminates power leakage through tracking.
Ribbed design for extra strength when stapled to post.
Substantial clearance from wire to post to ensure no power leakage.
Made from UV resistant, polyethylene plastic for strength and long life.
25 Pack
Weight:
0.02 (kgs) / 0.04 (lbs)
Warranty:
10 years
Colors:
 black
Product Code:
G626044
---
We Also Recommend
---